Salt Free Water Treatment Military Rebate Center
Military Discounts for Active Duty, Veterans, and First Responders & Family
Don't want to wait? You can also use our REAL-TIME LIVE CHAT feature to ask a live rep for our current rebates and discounts
---
Military Discounts for Active Duty, Veterans, and First Responders & Family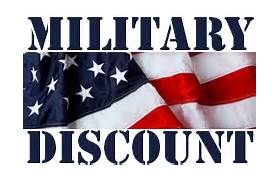 MILITARY DISCOUNTS: RainDance Water Systems is very proud of the efforts and protection provided to us by our first responders, law enforcement, fire, and military personnel on a daily basis. Without the services you provide we could not do what we do and for that we are extremely grateful! We would like to pay it forward with our special discounts for all US Law Enforcement, Fire, Armed Forces personnel and their families. This includes US Army, US Air Force, US Marines, US Navy, US National Guard, US Coast Guard and all Reserve Units. All current, retired, veteran and reserve personnel are eligible, as well as parents, spouses and children of these personnel.
REBATE INFORMATION: We do not store your information - we do not sell your information to a third party - we will not spam you - simply enter you email address and the name of the filter system you are interested in below and click the submit button - you will then receive an email with your discount code - that's it! No Hassle - No Pressure!
---
Frequently Ask Questions:
Why haven't I received the Rebate Coupon I requested?
There are several reasons why you may not have received the information you requested. The most common reason is that your mail program or Internet service provider (ISP) has mistaken the Rebate Coupon as spam and filtered it into your spam or bulk email box, or deleted it automatically.
To protect you from unsolicited emails (also called spam), many ISPs and mail programs filter your email to ensure that only legitimate email appears in your inbox. We make every effort to create filter-friendly email that will not be confused with spam by most spam filters. Unfortunately, some mail that you've requested may mistakenly be filtered out of your inbox.
In order to avoid having your Rebate Coupon filtered out by such programs, please add our email address to your list of trusted senders.
---
We have found that most consumers are unaware of the wide variety of water treatment products available to them, and as a result, they end up paying outrageous prices for their treatment systems that don't really suit their needs.
Our Website is designed to inform and answer any questions you may have on our wide selection of water treatment systems. Each product page includes complete technical and pricing information.
Can Your Water Treatment Company Offer What We Can?
RainDance Water Systems Offers The Following:
Free shipping directly to your home or business.
No waiting! Most water treatment systems shipped out the next day.
We specialize in residential and commercial well and city water filters and whole house water treatment systems for the home, business and farm.
Order online using our secure shopping cart and receive your invoice within seconds via e-mail or call toll free1-877-788-8387.
Visa, MasterCard & American Express accepted.
Complete easy to follow installation instructions included with each water treatment system.
Technical support before & after each purchase.
Proud Member of the Ramona Chamber of Commerce.
Free water testing for as long as you own your system.
No high pressure sales people to deal with.
Friendly courteous service.
Large selection of water treatment systems designed to provide quality water for you and your family.
2 easy ways to order your new water treatment system(s): Order online using our secure shopping cart or Call toll free 1-877-788-8387.
Great warranties on each water treatment system.

We hope that you have a pleasurable experience browsing through our store, we think you will be pleased with our no pressure approach to doing business.

Bookmark this webpage and visit often for updated sale prices and new water filter specials.

Click Here To Return To The www.southwestwatertreatment.com Home Page