Compare our True Salt Free Well Water Softeners !
Portable and Floor Standing Salt Free Well Water Softener Using NF Membrane Water Softening Filtration Technology

Have a "salt free" water softener question or would like to request an online quote? Call 1-877-788-8387 - Email: Sales@SouthwestWaterTreatment.com or Use our Contact Form and we will have a nano water treatment representative contact you ASAP
Nano Filtration: State of the art water purification and most leading edge technology in water treatment is now available for practical use in your business or manufacturing facility.
Do your research : ask our competitors if their "salt free" well water softeners actually soften hard water or remove hard water minerals - ask if they guarantee that your water will be softer and test softer after their "no salt softener" - The answer may surprise you!
Nanofiltration is a liquid separation membrane technology positioned between reverse osmosis (RO) and ultrafiltration (UF) A nanofiltration filter has a pore size around 0.001 micron. Nano Membranes provide high productivity performance while reducing a high percentage of salts, organic compounds, and hard water water minerals. The low net driving pressure NF membrane allows the removal of these compounds at low operating pressures - NF also removes hardness from water, which accounts for NF membranes sometimes being called "softening membranes" – NF is an attractive salt-free alternative to lime softening or zeolite salt regenerating type softening technologies.

Nano filtration water treatment is much the same as reverse osmosis technology. The key difference is the lower rejection levels - Nano Filtration is used where the high purity of reverse osmosis is not necessary – reverse osmosis systems can remove up to 99% of dissolved minerals, the nano membrane removes only around 75 to 80%. This means that the softened filtered water contains a partial mineral content which provides a good mineral taste while filtering excessive hardness, chemicals, nitrates, sulfates, pesticides, insecticides, and off taste components. Our Nano filtration systems offer a cost-effective alternative to commercial & whole house reverse osmosis units, as Nano filtration systems can be operated at lower operating pressures and typically do not require the addition of a separate water softener. The level of dissolved solids to be removed is less than what is typically encountered in brackish water or seawater. As such, Nano filtration is especially well-suited for treatment of municipal city tap water, well water, or water from surface sources like rivers and lakes.

ENTER THE RAINDANCE NANO FILTRATION STORE
The premiere online store from RainDance Water Systems
Shop for Whole House Nano Filtration Systems
Portable & Stationary Nano-Membrane Water Filters

1500gpd & 3000gpd Portable Nanofiltration Membrane Water Softening & Filtration Systems


Premium portable water softening and premium drinking water filtration for Cabins, Cottages, Vacation Homes,

Off-The-Grid Uses, Irrigation, Filling Water Tanks, Storage Tanks, Livestock Water and more.
The Portable Nano series is designed to provide clean filtered water and hard water softening in areas where the available water supply contains high levels of undesirable hard water minerals, slightly brackish water,chlorine, or other contaminants. The key features of the Portable Nano models are portability, simplicity, rugged design, and the ability to operate on typical city treated tap or well water line pressure. Applications include portable mobile water softening and water filtration for Micro Breweries, Craft Beer Makers, Bars, Cafe's, Coffee & Tea Shops, Light Commercial, Whole House, Horses, Livestock, Wineries, Green Houses, Growers, Vacation Homes, Cabins, and Off-The-Grid Uses (non-electric options available), Great for Filling Storage Tanks, Barrels, Bottles, and Containers. Our mobile nano water filters are designed for the user to simply dolly our multipurpose water softener filtration system to your point of use, station to station, or simply add a storage tank and re-pressure pump and use as a whole house or commercial water softener drinking water filtration system.

Easy to use ! Only 3 connections - Feed Water Input Connector: 3/4" Female Hose, Drain Water Connector: 3/4" Male Hose, Filtered Product Water Connector: 3/4" Male Hose - Standard Water Hose Connectors

Have a "portable nanofiltration" water treatment question or would like to request an online quote? Call 1-877-788-8387 - Email: Sales@SouthwestWaterTreatment.com or Use our Contact Form and we will have a nano water treatment representative contact you ASAP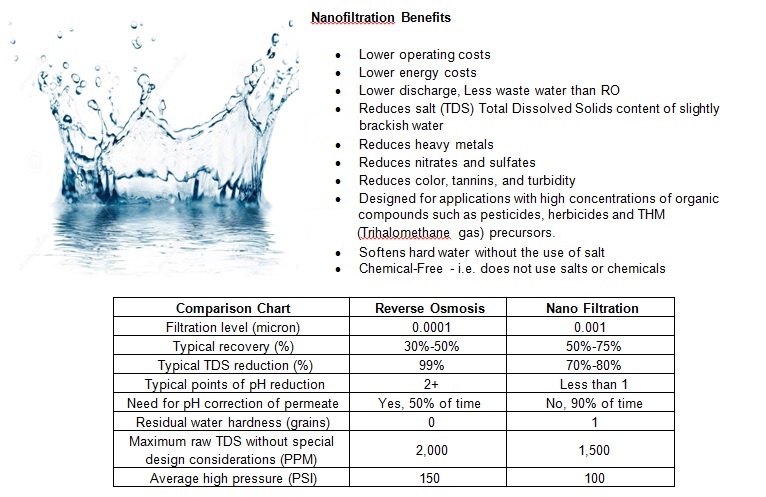 Stationary NanoFiltration Series - High Capacity Water Filtration & Softening from 2000GPD to 12,000GPD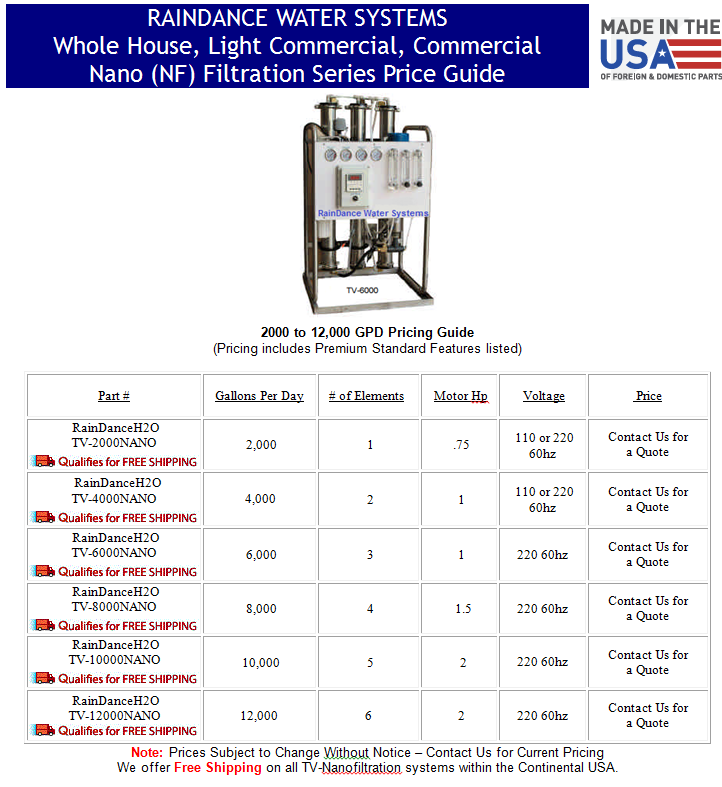 Have a "stationary whole house nanofiltration" water treatment question or would like to request an online quote? Call 1-877-788-8387 - Email: Sales@SouthwestWaterTreatment.com or Use our Contact Form and we will have a nano water treatment representative contact you ASAP
System Options: Iron, Manganese, Chlorine Pretreatment Systems, Storage Tanks, Repressure Pumps

For well water users, iron and manganese are the enemies to nano membranes. These substances will accumulate on the membrane surface and clog the pore structure, not allowing water to pass through. Symptoms of this are decreased flow of product water over a relatively short time. Most good quality membranes last anywhere from three to five years depending on how much water passes through them as well as the quality of the unfiltered water. A water analysis will tell you which of these contaminants are present in high enough concentrations to warrant the need to employ some form of additional pre-filtration before the nano filter. If you suspect iron or manganese is present in your water, please fax or email us your well water analysis or contact us for a free water analysis test.

Chlorinated water supplies (typically city treated water) at no time should there be a Free Chlorine residual in the Nano feed water. Even very low levels of chlorine in the feed stream will result in irreparable oxidation damage of the nano membrane. We can provide a chlorine pretreatment filter quote upon request

Once installed - the purified water produced by the nano filter comes out as a small stream. A separate storage tank (at least 300 gallons storage or more is suggested) and a re-pressure pump is required to deliver the filtered water into your application. Use with your existing storage tank or contact us to find out what tanks and re-pressure pumps we have to offer.
---
RainDance Water Systems can assist you in all of your water treatment needs. There's no need to go anywhere else. With over 80 years of combined experience in the water treatment business our support team can quickly & accurately answer all of your water filtration questions. Our resources include engineers and water treatment professionals which utilize virtually all known water treatment processes assuring our customers of the most economical, dependable, and environmentally friendly solutions. Our water treatment systems range from residential, light commercial and large commercial / industrial operations.
Our customers include numerous companies, manufacturers, cattle & dairy farms, and households around the world - United States, Spain, Japan, Canada, Taiwan, Malaysia, United Kingdom, and the Bahamas who require water treatment and pure water applications.
RainDance Water Systems customers include: The United States Coast Guard, San Diego State University, Palomar College, Quinlan Texas Elementary School, Hunter Industries, Sonance Corp., Owens Brigam Medical, Coldwell Banker Realty, 1st Choice GMAC Realty, Century 21 Realty, Austin Productions, Fairfield Country Club, and Auer Precision Inc. just to name a few.
---
RainDance Water Systems P.O. Box 2312 Ramona, Ca. 92065 : U.S. Toll Free: 1-877-788-8387 / Outside The U.S. 760-788-8387